Gagik Ghazanchyan
Armenia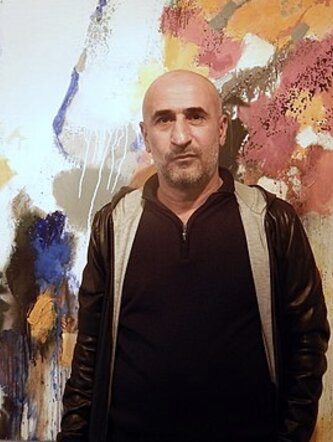 Biography & exhibitions:
Gagik Ghazanchyan was born in 1960 in Yerevan. During the period of 1975–1979 he studied at Terlemezian Fine Arts College of Yerevan, 1984–1990 at Fine Arts and Drama Institute of Yerevan. Since 1992 Ghazanchyan is a member of Artists' Union of Armenia
Solo exhibitions
2016 "Colors from Distant Lands", Gainsbourg, AvestArt, Zurich, Switzerland
2014 "Other images from the city", National Center of aesthetics, Yerevan
2011 "Contemporary Art from Armenia" Art Gallery RUF, Zurich, Switzerland
2010 Modern Art Museum of Yerevan, Armenia
2005, 2009 "Martin Gallery", Sissach, Switzerland
2005 Fairmont Hotel, San Francisco, USA
2000 Artists' Museum, Washington, DC (sponsored by Phillip Morris International)
Group exhibitions
Gagik Ghazanchyan started to participate in group exhibions in Armenia, Artsakh, France, Beyrut, Spain, Belarus, Lebanon, united States, Switzerland, Germany, Italy.
Gagik Ghazanchyan's artworks can be found at National Gallery of Armenia, Modern Art Museum of Yerevan and in private collections around the world.
The starting point: the moment when present arises between the past and the future; a realistic perception of the unreal on the brink of the apparent reality.
The result: a relativity realization of permanent movements and the rise of a tension limited only through the clash between consciousness and sub-consciousness.
The emotion: while accepting the materiality of the non-existent, to feel, at the same time, the unreality of its existence.
The aim: to designate the integrality of the acutely felt, the certitude in its validity, the acknowledgement of the contradiction and the record of the consequence as a fact.